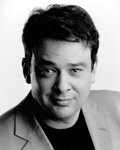 Kit was born in Harrow and studied English at Bristol University.
As an actor-musician, Kit toured for Century Theatre in their revival of Noël Coward's Bitter Sweet and appeared in the cross-dressing role of Mary Sunshine in their production of Chicago. He also appeared as a violin-playing gypsy in Wild Orchids at Chichester Festival Theatre and as a psychotic sergeant in Kafka's In the Prison Colony at Barons Court. He has participated in a number of workshops of new pieces by contemporary composers for English National Opera and ROH/OperaGenesis.
On television, Kit has appeared in Casualty, The House of Eliott and The Chronicles of Narnia, and as part of a comedy double-act with tennis star, John McEnroe. Films include: Fourteen Years On.
Kit is makes regular appearances at the Warehouse Theatre, Croydon, appearing as the BBC announcer in several episodes of their famous Dick Barton spoofs as well as the new musical play Femme Fatale and, most recently, as John Jasper in The Mystery of Edwin Drood.
West End credits include: Pat Levin in Jolson at the Victoria Palace (and also at the Royal Alexandra Theatre, Toronto); the Clearlake MC in Buddy, the Buddy Holly Story at the Strand; and standby Old Deuteronomy and Gus/Growltiger in Andrew Lloyd Webber's Cats, at the New London. Kit has recently completed a year understudying and playing the lead role of Max Bialystock in Mel Brooks' The Producers, at the Theatre Royal, Drury Lane. He also appeared as Max in the new musical Imagine This at the Theatre Royal, Plymouth.
Kit is married with two boys and some animals.