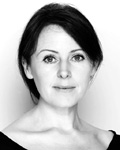 Helen trained at Bretton Hall and Central School of Speech and Drama.
Her theatre credits include: Solo performer in Sonnet Apples (forming part of an installation at the Centre Pompidou, Paris); Choreographer for Romeo and Juliet (Jermyn Street Theatre); Jen in John and Jen (The Finborough Theatre); soloist in An Evening With Andrew Lippa (St John's, Knightsbridge); various characters in A Memory, a Monologue, a Rant and a Prayer, Eve Ensler premiere (the Offside); lead in Sanctity of Hair self-devised and directed (London Institute of Contemporary Arts); Eve in Amapola (Battersea Arts Centre); multiple roles in The Shakespeare Revue (UK and French tours, and the New End Theatre, Hampstead); Leading Lady/Fan in Inside Out – a Portrait of Ivor Novello, (premiere UK tour); Nellie Forbush in South Pacific (concert, Singapore); swing in Les Miserables (national tour); Isabella in various Commedia dell'arte productions (the Prince's Trust); Elizabeth in Paradise (Moray House Theatre, Edinburgh); soloist in various musical cabarets.
Helen's directing credits for drama schools and universities include: The Beggar's Opera, Company and Annie Get Your Gun.
She can currently be seen in CBBC's Trapped, as Madame Deux Visage, Ethelena the Witch and Librarian Mutternot. She is also pursuing her practice-based PhD in Audience Participatory Theatre.