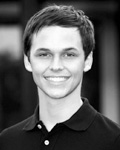 Billy was awarded a full scholarship to train at Whitehall Performing Arts College where he completed his training in July 2007.
Theatre credits include: ensemble and u/s Barnaby Tucker in Hello, Dolly! (UK tour); Hits of the West End (Hamilton Theatre, Scotland); and the pantomimes Cinderella (Shaw Theatre, London 2008/2009 season) and Cinderella (Regent Theatre, Stoke-on-Trent 2007/2008 season).
Roles in training include: Oscar Lindquist in Sweet Charity (New Empire, Southend); Tyrone Jackson and u/s Nick Piazza in Fame (Eastwood Studio Theatre); Danny Zuko in Grease (Eastwood Studio Theatre); and dancer/singer in West Enders (Whitehall PA College).
Other credits include: Back to the Sixties (corporate event); Too Smart for Drugs (regional tour/Essex FM); and the films True Identity and Telling Lies.