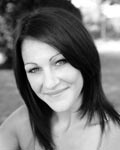 Beth is originally from North Wales and has been dancing since the age of three. She trained at Arts Educational where she graduated with a BA (hons) degree in Musical Theatre.
Her first professional appearance after graduating was in Children Will Listen at the Theatre Royal, Drury Lane. She then toured Italy playing the role of Lisa in the musical Fame. Beth has recently returned from a world cruise performing with the theatre company onboard the Aurora for P&O.
Other theatre credits include: Jack and the Beanstalk (Llandudno); Robin Hood and Babes in the Wood (Malvern Theatre); and Aladdin (Rhyl).