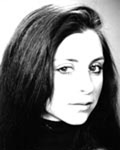 Alexandra studied performance arts at Millennium Dance 2000, graduating in 2005.
Previous credits include: dancing in various pantomimes at the Millfield Theatre, Edmonton, ensemble in Carmen with the English National Opera, and appearing as a guest singer for the West End Cares at a Christmas charity gala at St Paul's Church, Covent Garden.
After graduating, Alexandra played the role of Buffy and understudied and played the role of Pearl in the UK number one tour of Starlight Express. Following this, she completed a contract for P&O on the Oceana as lead production vocalist. Most recently she performed at the Albert Hall in Chess in Concert.