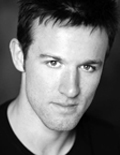 Training: The Arts Educational School London.
Theatre credits: Doctor Chilton in Silence! the Musical (ATS Theatre, London); soloist in The Twelve Tenors (European tour); PJ in The Great Pretenders (the Gatehouse Theatre, London); Josh in The Great British Soap Opera (Jermyn Street Theatre , London and Edinburgh Festival); Bob in Chat, the Internet Musical (Edinburgh Festival); Larry the Lobster in SpongeBob SquarePants the Musical (UK tour); Anthony in Sweeney Todd (Union Theatre, London); Seabee Wise in South Pacific (UK tour); Dick in Dick Whittington (Barnstaple Queens Theatre); Sgt Godley in Ripper the Musical (Actors Church, Covent Garden); ensemble in Sondheim's 75th Birthday Gala (Theatre Royal Drury Lane); and Emperor in Aladdin (Bournemouth Pavilion).
Recording credits: Josh in The Great British Soap Opera (Cleary and Brunger); Dean in Comrade Rockstar (Woolford
and John); Preacher Carcroft in Spitting Distance (RNT, Mark W Dorrell, Grant Olding).
Television credits: Tango dancer in F**k Off, I'm Small (BBC3).