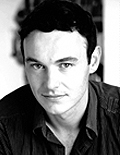 Joseph trained at the Bristol Old Vic Theatre School and Millennium Dance 2000.
Theatre includes: The Ebony Box (Theatre Royal Bury St Edmunds); The Winter's Tale, Cherry Picker and A Midsummer Night's Dream (all Ipswich); The Lion, the Witch and the Wardrobe (West Yorkshire Playhouse/Birmingham Rep); Dangerous Corner (New Vic, Stoke); Love's a Luxury (Mill at Sonning); A Midsummer Night's Dream, Macbeth, Lady Be Good, The Boy Friend (all Open Air Theatre, Regent's Park); Alice in Wonderland (Birmingham Rep); Love and Understanding (the Rosemary Branch); Sisterly Feelings, Peace in Our Time, The Roaring Girl (all Bristol Old Vic); Chicago (Adelphi and tour); Anything Goes (RNT, Drury Lane); Singin' in the Rain (RNT, West Yorkshire Playhouse); The Boy Friend, Sunset Boulevard and Me and My Girl (all national tours); Snoopy the Musical (Jermyn Street) and Of Thee I Sing (Bridewell).
Film and television includes: Dear Father, Body and Soul, Sight Test, The Sacrament, The Autograph, Children in Need, Millennium Stadium Musical Celebration.
Radio and voice includes: Gilbert Without Sullivan, On the Boulevard, HSBC commercial and voicing the character of Skaggle in the animation The Reality Machine.