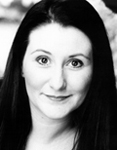 Suzanne was born in Sunderland and trained locally before being awarded a scholarship to study singing at the Royal Northern College of Music.
After graduating with a BA (Music) degree she joined the company of Opera North for their productions of The Bartered Bride and Don Carlos. She then spent several seasons with the Carl Rosa Opera Company and the Gilbert and Sullivan Company, Buxton, performing a variety of Gilbert and Sullivan operettas. Following this, Suzanne spent a year covering and playing the sinister ballet mistress, Madame Giry, and Wardrobe Mistress/ confidante in Andrew Lloyd Webber's The Phantom of the Opera (national tour).
Her television credits include Florrie McNulty in the adaptation of Catherine Cookson's The Black Velvet Gown,
The Wingless Bird and numerous appearances in Byker Grove.
As a founder member of the Cheap and Cheerful Theatre Company, Suzanne played Maudie, and the other woman in Jim Cartwright's Two. She could then be seen covering and playing Mrs Potts and Madame de la Grande Bouche in the international tour of Disney's Beauty and the Beast.
Suzanne recently played Miss Willoughby in the successful tour of Acorn Antiques. She followed this by appearing in Waiting for Gateaux playing the role of Jackie at Lincoln Theatre Royal and Theatre Royal Newcastle and then moved on to appear over Christmas at the Indigo2 in Christmas on Broadway.