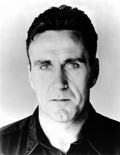 I started acting at the age of 12 at Liverpool's Everyman Youth Theatre after seeing my first play, The Ghost Train by Arnold Ridley. The halcyon days of the 1970s were a wonderful time to grow up in Liverpool with an interest in music and the arts in general and what started as hobbies soon led to professional opportunities, at first most of them in the music business, and so at 17 I moved to London to pursue these chances.
In London, I was engaged as a songwriter by ATV Music and had recording contracts with EMI and with MCA, writing and recording with several artists and co-writing music for the television series Metal Mickey and for a BBC drama called Johnny Jarvis, which led to an acting part and a rekindling of my first passion. Then came the rounds of auditions and the apprenticeship began in earnest.  Some small TV parts in series like The Gentle Touch (LWT). A musical, Yakety Yak, soon came along, in which I appeared with my three brothers, starring alongside the band the Darts and was a big hit, transferring from the East End (Half Moon Theatre) to the West End (Astoria) and this really kick-started what has been my career since.
I count myself very fortunate to have worked on great musicals such as Blood Brothers, Guys and Dolls and Oliver! (Palladium), wonderful plays such as The Resistible Rise of Arturo Ui, Wonderful Tennessee, Of Mice and Men, Cat on a Hot Tin Roof, with great directors such as Stephen Daldry, Sam Mendes, Dominic Cook, Chris Bond, Martin Duncan, Jonathan Church, Stephen Pimlott on the stage. A one-man play called One Fine Day transferred from Liverpool Playhouse to the Albery in London. I've also been lucky enough to be invited to work abroad, in Singapore Repertory Theatre.
Alongside the stage, I have worked extensively in television and film, the best known of which is certainly the comedy series The Upper Hand, which ran for 96 happy episodes and is still a staple of cable TV. With my brothers we co-produced and starred in The Hanging Gale, a BBC drama set in the Irish potato famine, and I'm still very proud of that. Amongst the other TV are: Boon, a BBC series called Rockliffe's Babies, Casualty (three times!), The Chronicles of Narnia, Madame Bovary, Night and Day, All Creatures Great and Small, Harry Enfield and Chums, Dangerfield, Heartbeat, Merseybeat, Norbert Smith, The Brothers McGregor, to name but some. There have been films, too: No Surrender, Food of Love (directed by Stephen Poliakoff), Limescale, Splinter, The Brylcreem Boys…. All in all, a wonderful ride…
And so to Fiddler on the Roof, which I am very proud to be involved in, and have another family connection to – Geoff Locise, my father-in-law, was in the original London production with Topol and Tamzin, my wife, says my getting the part has been a blessing, almost as if we'd given him a grandchild! But that's another career
change. L'chaim!