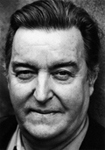 David was born in Fife, Scotland, overlooking the silvery Tay. He trained at Bush Davies and danced in the Opera Ballet at the Coliseum with Sadler's Wells Opera and the Royal Opera House, Covent Garden, with the Opera and the Royal Ballet.
Musicals include: Kiss Me, Kate, The King and I, Joseph and the Amazing Technicolor Dreamcoat, Annie Get Your Gun, Evita, Marilyn the Musical, The Pirates of Penzance, Peter Pan, Crazy for You, Martin Guerre, Oklahoma! and Lautrec.
Original cast recordings include:
Evita, Crazy for You, Martin Guerre
and Oklahoma!
Film credits include: The Slipper
and the Rose, Little Shop of Horrors and Oklahoma!
David has also appeared in France, Switzerland, Monaco, Germany, Belgium and Sweden in live shows and television. He is married to an ex-dancer and they have four sons, which doesn't leave much time for his favourite pastime – golf!