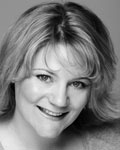 Marnie is a critically acclaimed international musical theatre actress, solo performance and voice-over artist. She is originally from Michigan, USA.
UK credits include: the Diva in Miss Sign On: the Untold Story of a Diva on the Dole (Edinburgh Fringe Festival 2008 and off-West End at the Warehouse Theatre); Fairy Snowdrop, in Sleeping Beauty (the Broadway). She was a co-host of Time Out London's Critics' Choice: All That Jazz! (Soho Revue Bar). New York credits include: performing in her one-woman show Animato in G: A Tribute to Women in Animated Film (NYC, Chicago, and Yale University). Other New York credits include: Itchy in Girl Gang (Atlantic Theatre Stage II/New York Musical Theatre Festival); Brooke in The Water Coolers (Orlando); Patty in Tusk: a Musical (Puerto Rican Travelling Theatre/NYMF); Anna Maria Morelli in The Winner: a Brooklyn Fable (Abingdon Theatre/Midtown International Theatre Festival); Susan in Baby With the Bath Water (Looking Glass Theatre); and Jenny Wainwright in Gold Rush! (off-Broadway Promenade Theatre and US national tour).
Concert credits: Sentimental Journey; 14th Annual Cabaret Convention; Mac Awards (Symphony Space); Broadway by the Year (Battery Park); and a duet concert Marnie Baumer and Leah Crocetto (Weill Recital Hall at Carnegie Hall).
Cast recordings/commercials: Miss Sign On: the Untold Story of a Diva on the Dole, Sleeping Beauty, and Tusk: a Musical. Commercials include: VH1 and Jet Blue.