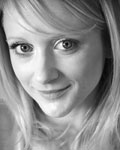 Kerry grew up in Suffolk and began training at the Coral Stebbings School of Dance before training professionally at Performers College, Essex.
Theatre credits include: Flashdance, the Musical (UK tour) understudying and playing the roles of Gloria and Jasmin; Starlight Express (Bochum, Germany) understudying and playing the roles of Dinah, Buffy and Ashley and swing componants; Joseph and the Amazing Technicolor Dreamcoat (UK tour), Apache dancer; Peter Pan (Millfields Theatre) as Tinkerbell; Spirit of the Dance (UK tour/US tour/Branson, Missouri); Thursford Christmas Spectacular, Norfolk; Couples WLTM as Sarah; The Biz (Grays Theatre, Essex) as Becky Azure.
Television credits: the Laureus World Sports Awards (Monte Carlo) performing for Lionel Richie; BBC's Songs of Praise.
Film credits: Distant Lives, as Leigh; Draft Five, as Barbie.
Other credits include: member of Mystique, performing at Le Royal Meridien, Mumbai, the Variety Club Ball, Daisy Ball, Children in Need.