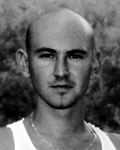 James was born in Blackpool. It was there that James learnt his trade at Phil Winston's Theatre Street, and it was in Blackpool James got his first experience dancing in the Paradise Room at the Pleasure Beach with Bradley Walsh, Roy Walker, Paul Zerdin and Little and Large.
James has also worked up and down the country with David Essex in David's pantomime Robinson Crusoe. James has been lucky enough to perform at Wembley Arena several times in numerous fashion shows and exhibits, plus the Boat Show once held in Covent Garden. James has also worked abroad in Barcelona with Juaqim Cortes and Andreas Botticelli, and across the pond in the USA.
It was there James got the opportunity to go and work on several cruise liners and travel the world. On one of the liners James was able to land himself a walk-on part in the movie After the Sunset with Pierce Brosnan, and was John Simms' stand-in for the BBC drama Life on Mars. It was after this James was in Robbie Williams' video 'Advertising Space'. James then went on to do the UK tour of Seven Brides for Seven Brothers, then the West End show of Seven Brides for Seven Brothers.