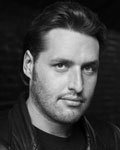 Daniel trained at the Academy of Live and Recorded Arts. Since graduating in 1997 Daniel's theatre credits include: most recently, four years with the company of Billy Elliot – the Musical understudying and playing the role of Mr Braithwaite at the Victoria Palace; working with the RSC in Stratford and in the West End at the Aldwych as Eddie in The Secret Garden; Donald and understudying and performing Bologna and Bumfrey in Dick Whittington at Sadler's Wells; Dolas in Sunsets and Mornings at the Castle, Wellingborough; Greta in Bent; Dr Integer in Corpus the Musical; Hieryonimus in Red Magic at the Lion and Unicorn; Don Brando in Movie World; Moose in Crazy for You at Aberystwyth Arts Centre; Balladier and Oswald in Assassins; Lo-Singh in La Cage aux Folles and Jamie in Beautiful Thing.
Television and film credits include: Musicool for T4 on Channel 4; Simply Musicals and Blue Peter for the BBC; Boots commercial-naked shopper; Rodney in Somebody Up There Hates Me, which previewed at the National Film Theatre; Mr Farfan in Hallelujah; Shane in Britain Isn't Square; the Man in The Dressing Room; Adam in Reaper and RS3 in The Canary Man Diaries.
Original cast recordings: Billy Elliot – the Musical, The Secret Garden, Sunsets and Mornings, and Jack and the Giant and Beauty and the Beast for Wheelhouse Productions.