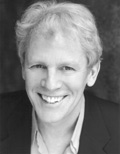 As Julian Marsh in selected venues
Paul Nicholas became a household favourite with his role as Vince in the BAFTA award-winning BBC television series Just Good Friends and for LWT's major drama Bust for which he was nominated Best Actor.
His theatrical success began in 1969 in the original London production of Hair. This was followed by the lead role of Jesus in Jesus Christ Superstar, Danny in Grease and an appearance in Richard O'Brien's T-Zee for the Prospect Theatre Company. Paul joined the Young Vic Company where he played Claudio in Much Ado About Nothing and in John Antrobus's comedy Crete and Sergeant Pepper. Paul created the role of Rum Tum Tugger in Lord Lloyd-Webber's Cats, followed by the title role in Sir Tim Rice's musical Blondel and Charlie Girl at the Victoria Palace with Cyd Charrise. He appeared as the Pirate King in the highly successful production of The Pirates of Penzance and starred in the first ever national tour of Barnum for which he trained in all circus skills including tightrope walking and juggling. At the end of 1991 Paul was the subject of This Is Your Life. For his service to show business and charity Paul was awarded a Silver Heart from the Variety Club of Great Britain.
Besides Just Good Friends, Paul's television work includes: Season of the Witch, Early Struggles, Two Up Two Down (BBC); Chips (MGM/NBC); The Lady Killers (Granada); The Boys From Ipanema (ATV); A Little Rococo (Yorkshire Television); Doubting Thomas (TVS); Close to Home (LWT) and numerous appearances including four Royal Variety Performances.
His venture into pop singing in 1976 resulted in four top ten UK hits, including the USA two million best seller Heaven on the Seventh Floor. Paul has since received a further four gold albums. He presented his own pop series on Granada TV called Paul.
His major film credits include: Tommy, Stardust, Lisztomania, Sergeant Pepper's Lonely Heart Club Band, The World Is Full of Married Men, Whatever Happened to Jack and Jill, Yesterday's Hero, Alice, The Jazz Singer, Blind Terror with Mia Farrow, The Nutcracker with Joan Collins and Invitation to the Wedding with Sir Ralph Richardson and Sir John Gielgud.
In 1992 Paul formed a production company with fellow actor David Ian. The 20th anniversary concert tour of Jesus Christ Superstar was a complete sell-out. They followed this success with The Greatest Shows in Town (Bournemouth International Centre) where the show broke box office records. Paul and David went on to produce a sell-out tour of The Pirates of Penzance in which Paul starred as the Pirate King.
They also produced in 1995 the tour of Singin' in the Rain, directed by Tommy Steele with Paul in the lead role, and tours of Chess and Evita. Paul also directed The Rocky Horror Show.
In June 1996, Paul played the role of King Arthur in the Covent Garden Festival's production of Camelot. He repeated his role of King Arthur in a Radio 2 production of Camelot. In 1997, Paul completed a national tour of Michael Cooney's The Dark Side with Jenny Seagrove, and a tour of The Mysterious Mr Love alongside Susan Penhaligon in a two-hander written by Karoline Leach. After a successful tour, the play transferred to the West End's Comedy Theatre. In February 1998, he starred in the play Catch Me If You Can along with Christopher Eccleston. This was followed by a new musical adaptation of Dickens' A Tale of Two Cities, a musical developed by Paul and produced with Bill Kenwright in which he played Sidney Carton.
In 1999 Paul's autobiography Behind the Smile was published by Andre Deutsch and in 2000, Paul appeared in the television series Sunburn and played the role of Ronnie Buchan in the new police drama series Burnside. Later that year he was happy to create the role of John Smith in Ray Cooney's sequel to the hit comedy Run for Your Wife-the aptly titled Caught in the Net.
Paul Nicholas and David Ian Associates are responsible for co-producing two of London's biggest hit musicals: Grease, on which they joined forces with the legendary impresario Robert Stigwood and Saturday Night Fever which opened at the London Palladium in May 1998 and on Broadway in October 1999. Both shows began UK tours commencing in 2000. They also produced the successful west end revival of Ain't Misbehavin'. Paul then played the title role in the national tour of Doctor Dolittle and starred in Eric Chappell's brand-new comedy Snakes and Ladders with Ian Ogilvy. Recent theatre has included Tevye in the national tour of Fiddler on the Roof and Stagestruck by Simon Gray at Windsor. He also co-produced and starred in the UK tour of Jekyll & Hyde-the Musical.
Recent television includes playing guest leads in two episodes of The Bill, Doctors, Heartbeat and Holby City. Paul recently learned to show-jump for the BBC Sports Aid show Only Fools on Horses.
Paul has presented on radio including two series of Mad About Musicals (Radio 2) and the children's series Cat's Whiskers (Radio 4), as well as his own music show Paul and Friends for Thames Television. Paul is the voice of 'Spot' the dog, a show for children.
Forthcoming productions include Schwartz Stories, a new musical at the King's Head, Keeler, a new play based on the life of Christine Keeler which Paul will direct at Upstairs at the Gatehouse in February 2007 and Grease on Broadway in 2007.
For information regarding the Paul Nicholas School of Acting contact www.pnsa.co.uk