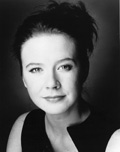 Originally from the Lake District, Julia trained at the Royal Ballet School, Bush Davies Theatre Arts and then finally at the Doreen Bird College of Performing Arts where she graduated in musical theatre.
Her theatre credits include: My Fair Lady (Esplanade Theatre, Singapore); Mrs Brown in Me and My Girl (UK tour) in which she understudied the role of the Duchess of Dene; Mrs Cratchitt in Scrooge (UK tour); High Society (UK tour) in which she understudied and played the role of Mother Lord; Anything Goes (Theatre Royal, Drury Lane) in which she understudied and performed the role of Reno Sweeney; Mrs Darling and the Mermaid in Peter Pan (Beck Theatre, Hayes); Fairy Bow Bells in Dick Whittington (New Theatre, Cardiff); Dorothy in The Wizard of Oz (Storytellers, Blackburn).
Julia's television credits include: Going Down (Royal Holloway University); Road to Farringo (Farringo Productions); Hardman (Parable Films); Bubbles in The Worst Witch (Central Television).
Workshops include the role of Fay in the tap project Artie, Gwen and Lance (Hampstead Theatre) choreographed by Graeme Henderson.