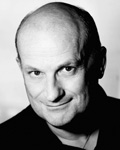 Graham created the roles of the Commentator and Phillips in Chitty Chitty Bang Bang-currently holding the record for the longest running musical at the London Palladium.
Other West End roles include Lumley Lancaster in Mr Cinders (Fortune); Roscoe Dexter in Singin' in the Rain (London Palladium); Francis in Elegies (Criterion) and Abe Greenbaum in Some Like It Hot (Prince Edward).
Following Chitty, Graham played "Fingers" McFidget in The Burglar's Opera for Opera della Luna. Other roles for the same company include Baron Zeta in The Merry Widow; Pooh-Bah in The Mikado; Dick Deadeye (and Sir Joseph Porter's Aunt!) in HMS Pinafore on tour and for the Covent Garden Festival.
Prior to Chitty, Graham was playing Sarah the Cook in Roy Hudd's Dick Whittington at the Watford Palace, following his great success at the same theatre the previous year as Widow Twankey in Aladdin. This Christmas he played Ugly Sister Chantelle in Cinderella at Woking, starring Patrick Duffy and Susan Hampshire.
Graham has appeared in national tours of Crazy For You, Joseph, Singin' in the Rain, Cluedo, Salad Days, Just a Verse and Chorus and many others, also frequently playing in repertory all over the country. Most recently, at the Derby Playhouse, in Stephen Sondheim's Into the Woods.
Fringe work includes The Chairs and McCorquadale in Funeral Games; at the King's Head, Graham co-devised and appeared in the critically acclaimed Meet Me at the Gate, a tribute to the Gate revues of the 1930s. He also alternated with Lily Savage in the role of Roscoe, the drag queen in Elegies there, prior to its West End run.
Film and TV credits include Blunt, with Anthony Hopkins and Ian Richardson, Flywheel, and Sightings as Jack the Ripper! Graham recently completed filming The Snow White Files as Baptiste.
A frequent radio broadcaster, Graham was one of the four regulars in the award-winning BBC comedy series Flywheel, Shyster and Flywheel and has just recorded a pilot of The Adventures of Sexton Blake playing the villain Totween Kemmie.
Graham also performs regularly in cabaret and music hall all over the world, regularly appearing with the Concordia Theatre company on the QE2 for Cunard. He has compèred several variety tours, and was a popular Chairman at the former Players' Theatre in London.
Website: www.hoadly.co.uk