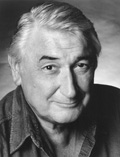 Bruce was born in Kent. National Service: 656 Squadron. He trained at RADA. Repertory theatres include Birmingham and Colchester. In the early 60s he was contracted to The Old Vic and HM Tennant. He appeared in five plays with Vivien Leigh (directed by Robert Helpmann), including Twelfth Night, La Dame Aux Camellias and La Contessa. Leading man with the Welsh National Theatre (Warren Jenkins). Directed stage plays for some years including Australian version of Fings Ain't Wot They Used t'Be. Also played Squeezum in Lock Up Your Daughters (both by Lionel Bart). Co-founded the Mercury Theatre, Auckland.
Television: over two hundred credits including Crane (Rediffusion series), Dimensions of Fear (ABC series), the Alfa Plan (NZBC series), The Linkmen (TCN9 series), The Saint, Butterflies (as Leonard-BBC series-five years), Sharon & Elsie (BBC series-two years), Whoops Apocalypse! (as the Shah-LWT series), For Maddie-With Love (Thames), Secret Army, The Concubine (Granada), Onedin Line, The Vision (BBC film), Ex (ITV film), Canned Carrott, Keeping Up Appearances (BBC), Doctors (BBC), Double Act (Channel 4) and many others.
Selected theatre: Touch of Spring (Comedy Theatre), In the Red (Whitehall), Ross (Old Vic), Last of the Red Hot Lovers (Strand Theatre), Two for the Seesaw, The Division Belle, Brighton Beach Memoirs, Hobson's Choice-winner of the TMA award, Don't Dress for Dinner, Fiddler on the Roof (with Topol-London Palladium-one year), No Big Deal, Educating Rita, The Fly, Oliver! (London Palladium-three years), Charley's Aunt (national tour), The Phantom of the Opera (Her Majesty's-two years), My Cousin Rachel, Jane Eyre (national tours) and the musical Taste the Love at the Jermyn Street Theatre.
He has read many audio books for the BBC.
For Paul Myers, he has written a musical version of Clochemerle, which is due to go into pre-production.
He has been married for 45 years and has two children-both older than he is!
For more, see: www.brucemontague.co.uk or www.cherishedtelevision.co.uk.