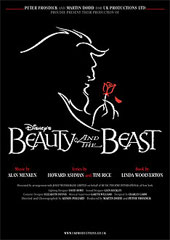 Set
Based on our successful touring production this set has now been adapted to fit a wide range of venues from the smallest hall to the largest no 1 theatre whilst still retaining the classic Disney look. The tracked and winched floor not only makes the trucks appear as if by magic but also helps to give a professional look to the production.
Costume
With costume designs approved by Disney our carefully worked and constructed costumes cannot be rivalled. Each costume has been engineered for maximum performance enhancement, and you will find them a pleasure to perform in.
The character filled costumes bring the charm of this beautiful French village to life; Belle's sweetness, Gaston's arrogance, Lefou the clown, the colourful Silly Girls and bumbling Maurice who leads us to the magic of the enchanted castle.There we meet the old woman who transforms into the beautiful enchantress, the selfish Prince who is cursed and found trapped inside the magnificent Beast, Lumiere the charming candelabra (can be hired with real flame), Cogsworth the fastidious clock, Madame De La Grande Bouche the operatic wardrobe, Babette the sexy feather duster, the loveable Mrs Potts as the teapot and her son Chip the tea cup. All of these costumes brought to you by industry professionals, to create a high quality visual illusion, which is essential when producing these time-honoured roles.
Let us not forget 'Be Our Guest', the biggest musical number within the show as it brings the kitchen to life with an array of remarkable kitchenware.
The show is completed with ferocious wolves, sumptuous courtiers and a ballroom scene that is truly breathtaking, and guaranteed to bring a tear to your eye!
The costumes breakdown into a variety of packages to suit your hire needs, the hire does not have to be the show in its entirety. If a package does not exactly match your requirements we are happy to customise the show to your needs.
A Supervisor is provided to guide you through the fittings and technicalities of this show, a show that's central focus is creating those classic Disney characters. See Production Page